At Healthside Pharmacy, we offer services to Nursing & Residential Homes meeting current guidelines for handling medicines. We provide a wide range of Dossete Boxes, including blister pack, Venalink and Nomad.
As a responsible healthcare provider, Healthside Pharmacy understands the high importance of Safe and Accurate Medicine Administration,
whatever the size of the Care Home organization. It is also understood and recognised the time constraints facing the staff to provide care to their patients; which is why Healthside Pharmacy commits to work in close partnership with Care Homes, establishing their individual needs and tailoring a complete support package to help the Care Home staff meet current guidelines for handling medicines. This is all done by providing safe, secure and efficient systems for administering medicines in order to help Care homes meet best practice to achieve Care Quality Commission (CQC) requirements.
Expertise and Support: Healthside Pharmacy works closely with Care Homes to help them choose a system that works for them, providing advice on every step; from storage and training assistance to support with ethical issues.

Dispensing Systems and Tools: There are many dispensing systems available, including a choice of Multi-Dose and Unit-Dose; as well as a traditional dispensing service to meet the needs of every Care Home.

Repeat Prescription Management (ordering medication process): Healthside Pharmacy offers a script management service which ensures that every Care Home will have the correct medication available at the right time.
Receipt of Medication (monthly cycle): Medications for the monthly cycle will be available for collection or delivery no later than day 25 of the cycle to allow effective checking in and follow up of any queries. The delivery will be made on an agreed date and time window, and a written schedule will be provided. All medications will be delivered with a duplicate delivery note and any medication requiring special handling, such as fridge lines or Controlled Drugs, will be delivered separately accompanied by an individual delivery note.

Labelling of Medications: Healthside Pharmacy takes extreme attention and follows rigorous procedures to ensure maximum safety with medications. All medications will be dispensed and labelled in accordance with the Medicines Act 1968. Nutritional feeds will contain an individual label. Any item containing an inner container and outer box; i.e. creams/eye drops, etc; will be labelled on both forms of packaging. Date opened labels will be provided for use to identify when products with a limited shelf life were opened, i.e. eye drops. Healthside Pharmacy will work with the Care Home and the prescriber to improve clarity and safety.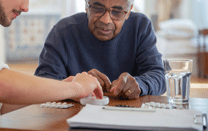 Medication Administration Records Sheets – MARs Charts: MARs Charts will be provided for all medications supplied to the Care Home, including monthly and acute items. The MARs Charts will contain a specific time of administration for each medication e.g. 08:00pm. All items dispensed; including dressings, appliances and nutritional feeds would be included on the MARs Charts; (separate MARs Charts for creams for carers use can be supplied).
PRN medication would be included on the MARs Charts without dose times to support the adherence to PRN protocols.
The MARs Charts have a carer's notes section on the reverse, for nurses and carers to write any supporting notes e.g. cross referencing. Blank MARs Charts will be supplied for emergency use, such as new admissions or hospital discharges.
Interim/Emergency Acute Prescriptions and Out Of Hours support are also available.
Healthside Pharmacy will agree with the Care Home to a daily cut-off time for the supply of interim/acute/emergency prescriptions; this time will be no earlier than 6:30pm but may be later subject to local arrangements; all prescriptions submitted to the pharmacy by this time, providing that we have the item(s) in stock, will be delivered the same day.
Healthside Pharmacy offers a 24 hours service for really urgent requests and deliveries. Pharmacist advice is also available 24 hours.
All items will be supplied with a printed MARs Charts and a Patient Information Leaflet.
Improving the Service to Care Homes: Healthside Pharmacy conducts internal audits every 12 months and works with the Care Home Managers to agree actions and review the service provision.

Waste Management: Healthside Pharmacy can arrange collection of all waste medications for Care Homes. Returns envelopes and books can be provided; as well as leave appropriate documentation with the Home to facilitate the audit trail. For Nursing or Dual Registered Homes, access to waste medication collection through a third party clinical waste collection company can also be provided.